"If a child is to keep alive his inborn sense of wonder … he needs the companionship of at least one adult who can share it, rediscovering with him, the joy, excitement and mystery of the world we live in."
– Rachel Carson, The Sense of Wonder, 1956.
Sustainability Images from Around the World
P.E.A.C.E. member, Irene Lipshin, has traveled with her camera focused on children around the USA and far beyond. This photo essay illustrates sustainability in many places. She lives in Placerville CA. and joined Craig Simpson on the Camino Way in 2016.
2016 Peace Awards
PEACE EDUCATORS ALLIED FOR CHILDREN EVERYWHERE
Presented the 2016 PEACE Awards at NAEYC in Los Angeles, Nov. 2016.
Pat Dorman
A lifelong fighter for quality childcare
Memories go back forty years of your commitment to progress for children and the early childhood education they deserve. Your work with CAEYC, as liaison to the California legislature, opened a two-way communication which translated children's issues into words the legislators could understand. Advocacy was strengthened year after year by the trainings you offered and the information about the budget and legislative process provided in your newsletter, On the Capitol Doorstep. You empowered the voices of parents and teachers to speak up for children in the State Capitol. Now as a P.E.A.C.E. member and a grandmother, you have brought your skills and determination to the struggle for safe settings for LGBT children and families in our schools and communities. We value your steady voice for advocacy in our deliberations together, along with the waffles and other delectables you serve up. Thank you for the grace, wisdom, friendship, and passion you bring to all you do.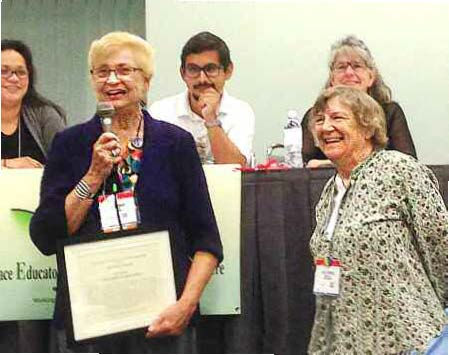 The Lesbian, Gay, Bi-sexual and Transgender Interest Forum
Teaching us all about diversity
Your presence within NAEYC and elsewhere supports individuals living with LGBT realities, often surrounded by ignorance and prejudice. You educate early childhood teachers and help them create safe and welcoming classrooms for colleagues, children and families. The long road you travel winds on, but we celebrate the progress and welcome the awareness your efforts encourage in this organization and in our communities. Our collaboration with you in presentations here opened our eyes and strengthened our commitment to join in your work to end discrimination. We value your humor, and humanity and honor your achievements. Thank you.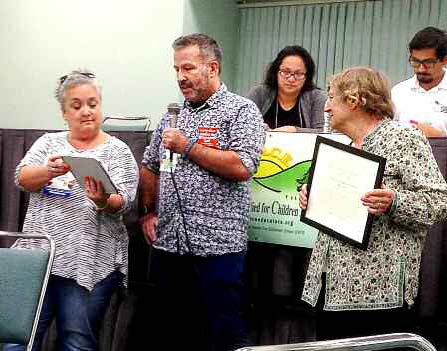 Brian Silveira accepted the Peace Award for the LGBT Interest Forum with this speech.
The LGBT Interest Forum would like to thank the Peace Educators Interest Forum for recognizing our work on behalf of Peace Education. Our work is as desperately needed in this country now as it was when we started 35 years ago!
To quote Harvey Milk, "If a bullet should enter my brain, let that bullet destroy every closet door." – Harvey Milk
Some say that the fight is over now that we have marriage equality. We want to offer some context of the violence that still exists against the LGBT community:
"On June 12, 2016, a 29-year-old security guard, killed 49 people and wounded 53 others in a terrorist attack/hate crime inside Pulse, a gay nightclub in Orlando, Florida. He was shot and killed by Orlando Police officers after a three-hour standoff. Pulse was hosting Latin Night and most of the victims were Latino. It was the deadliest mass shooting by a single shooter, the deadliest incident of violence against LGBT people in United States history, and the deadliest terrorist attack in the United States since the September 11 attacks in 2001" (Wikipedia)
Think about that, the deadliest mass shooting by a single shooter and the deadliest terrorist attack since 9/11! A moment of respect for the victims and survivors of the Orlando Massacre.
What an honor to receive an award from such a model Interest Forum. A group that practices and promotes the values of peace education every day. The only Interest Forum that I know that has made successful partnerships with other interest forum groups at NAEYC, thus affirming that you live by your values.
We had the pleasure of working with this group for a couple of years, linking Peace education principles with supporting LGBT families and staff, it was powerful! We had great participation because, we believe that people are hungry for this kind of deep thinking. The collaboration of our two groups is essential because violence is apparent in the lives of children, and we must do what we can to see the intersections of communities that experience it. People of color, elderly people, youth, people with different abilities, people living with AIDS, people from all parts of the world with different cultures and religions and others that I have not mentioned, are all part of our community and are affected by violence. We are all the antidote to violence perpetuated by toxic media sensationalism, killings in the name of religion, bullying, suicide and laws that take away human rights to marginalized groups like ours. We all know that the antidote to violence is best administered to the very young!
The LGBT interest forum seeks to make the world a safe place for everyone including LGBT (and beyond) staff, parents and children.
Thank you all for the critical work you do and thank you for this award.
Brian Silveira, San Francisco CA
Go to www.welcomingschools.org for help in supporting all families and children in our schools and communities from bullying and prejudice and misunderstanding.
Take Action 2017
Take Action for Children and a Peaceful World
Increase Funding for Childcare
There is bi-partisan support in Congress for increasing spending for childcare and early education in the upcoming budget. Now is the time to contact your representatives and senators to let them know that the need is urgent. Federal funding for quality childcare has been decreasing each year for the last 5 years. Only 15% of eligible children now receive help. More children lose slots each year, the wait lists grow longer and families are struggling. Tell them your story about the realities you find in your community, school and/or family. $1.4 billion is needed to ensure that funding is available to avoid further reductions in children served. This figure is dwarfed by the $54 billion increase for the military in the proposed budget. The well-being of children and families should be the priority! Let them hear from you now! Go to www.nationalpriorities.org for details on our budget and military spending.
The most effective way to get the attention of representatives and senators is to go to their website and write a message in the comments section on the contact page. A phone call to their office in D.C. or your home district is next best. Numbers are available at 202-224-3121.
Stop the Escalation of the Syrian War
The news in April has been alarming. More marines are heading to Syria. US planes have bombed a Syrian airfield. The risk of an escalating role for the US in that long, hideous war is increasing. Tell your representatives to work to end the conflict not expand it!
Threats to use Nuclear Weapons Against North Korea
As North Korea continues its buildup of missiles and nuclear weapons capacity, some voices in the administration are announcing that our nuclear weapons may be used in response to this threat. Just voicing this possibility is desperately dangerous! The whole world would suffer the consequences of such a nuclear attack. Let your representatives know that they must act to prevent such recklessness.
There is a bill introduced in the Senate and the House which calls on Congress to assert its Constitutional right to declare war and include the use of nuclear weapons in that power. Currently the president alone has the power to launch a nuclear attack. Tell your representatives to support the passage of the Restricting First Use of Nuclear Weapons Act of 2017. Representative Lieu and Sen. Markey have introduced H.R. 669 and S. 200 to prohibit the launch of a nuclear attack without a declaration of war by Congress. This limit on presidential power is urgently needed!
Go to www.livableworld.org for more information.
The Language of Food

As an early childhood educator, the language of food has been an instrumental language that brings young children together in a peaceful environment. The setting is carefully designed with purpose and intentionality where children are valued, respected, and where they can feel a sense of belonging. It is more than a cooking experience; the process allows children to connect on an intimate level as they take part in preparing a healthy meal.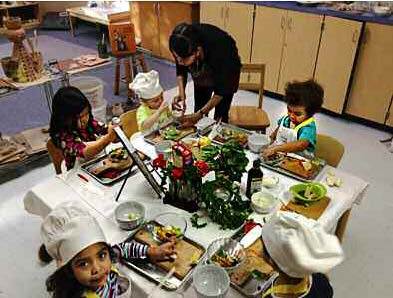 More importantly, during the process, social relationships are being formed with the teacher through conversations, questions, and deep listening to spoken or unspoken language. The children are collaborating and sharing their personal experiences in a serene atmosphere. The universal language of food brings out many possibilities from each member in a community setting. Children are naturally eager to help a peer whether it is using a tool, passing an ingredient or offering encouraging words to try an unfamiliar food. Through the cooking experience, children find their own sense of empowerment by being able to choose a tool (whether it's scissors, a child's knife, or their own best tool – their hands).
Food is universal. It strengthens relationships amongst community members, therefore, focusing on the positive similarities we all share. The process of using all their senses allows children to thrive at their own pace in a kind and welcoming environment.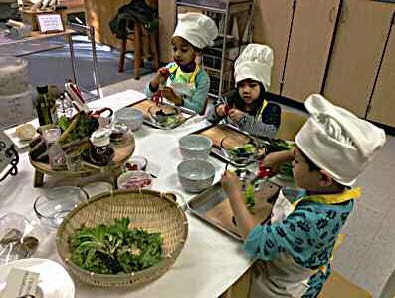 As one of the recipients of the 2015 P.E.A.C.E.Projects, the Language of Food continues to promote meaningful experiences that tap into their curiosity, foster kindness and flexibility to welcome other members, and set the foundation for a more peaceful world. The aesthetically appealing environment lends itself to discussions, connections to home experiences, and to experiments with new healthy ingredients. This journey can only enrich children's overall well being and as a facilitator, I continue to learn and get inspired by them. I remain committed to facilitate language of food gatherings where they can thrive and learn lifelong skills.
Enedelia Mason, Fullerton CA
500 Miles – A Spiritual Journey in Northern Spain
My brother, Jay, died three years ago, after a painful 8 months of dementia and leukemia. He had a difficult time in his decline… as did I, his chief caretaker, and only family member. When he died, I felt a great relief … and great sorrow and guilt. I had no place to take all these feelings and had to return to work as a preschool teacher at a daycare center in Dorchester, MA. During this time, I saw a movie done by Emilio Estevez and his father Martin Sheen, "The Way". It was a quiet, little movie, which was sort an underground hit. There I found out about a pilgrim walk from a small village in Southern France and the Pyrenees to Santiago de Compostela, a total of 500 miles. It is a Catholic pilgrimage dating back to the Fourth Century.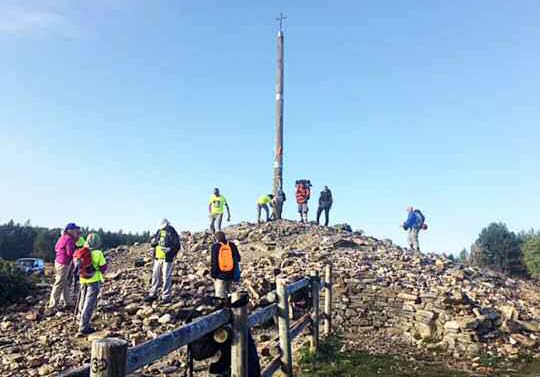 Pilgrims have walked the Way ending in Santiago at the tomb of the Disciple, Saint James, the patron saint of Spain for centuries. Most people walking the Camino these days are not even religious. They come to the Way for a variety of reasons; some spiritual, some to lose weight, some to see the Spanish countryside, view history, study architecture. I must admit I am a Catholic. Not the best. I grew up in churches next to my mother who prayed the rosary daily and attended the Blue Army to end Communism. It was just part of my life. My brother was a much better Catholic. He went to Catholic School until he was bullied so much he had to leave. And he went to Fairfield, a Jesuit University. He went on retreats and to church every Sunday. I hung around Quakers, Buddhists, Unitarians, and Jews, and I liked them! I rarely went to mass.
But Jay's death shook me. And when I learned about the Camino Santiago I knew I had to go. Other things called too. I was exhausted from working 43 years as a teacher, the last 10 with infants and toddlers. I had just turned 70. I was overweight from eating too much birthday cake and cookies.
I had to go, not just for Jay, but for me.
I found that a longtime friend, Irene, wanted to go as well. She could only stay a month. I would have to do a major part by myself. Irene was in much better shape than me and much more organized. But in mid-August we met in London and took a train to Paris and another to St. Jean Pied-Port in the South of France to start our journey. Early on August 17 we picked up our packs and poles and headed up the Pyrenees.
The journey had a great impact on my life. There are lots of stories; walking above the clouds, the small villages, the ancient churches. Peregrinos (the Spanish word for "pilgrims") come from all over the world; from all over Europe, from South Africa, Korea, Japan, Hungary, Mexico, Argentina, Brazil. A group of 10 people came from Israel. Lots of Canadians. And of course, Spanish, Italians and Portuguese. Not that many Americans. We stayed in alberques (hostels just for pereginos), some private, some public, convents, monasteries. We all shared the same bathrooms. We suffered blisters, knee problems, exhaustion.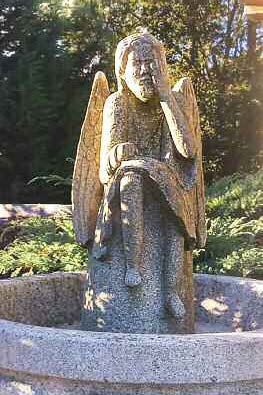 It is an ancient custom on the Camino Santiago to carry a stone during your journey. You are supposed to place it at a cross, the Cruz del Ferro, about two thirds of the way to Santiago. I picked up a stone in the foothills of the Pyrenees in France when I first started out and placed the stone deep in my pack. After carrying it over 300 miles I knew it was for my brother and the burdens I carried with him. The guilt, the shame, the grief, the loss of Jay. Arriving at the place I left early before dawn and there in the morning on top of the mountain was the cross. It was not beautiful, a tall metal and wood cross with stones piled around it. I had taken out the stone from the pack and walked with it in my hand all morning. When I arrived several dozen people were laying their stones at the foot of the cross. I climbed my way to the top and laid down Jay's stone. The flood gates opened and I wept for about 20 minutes. Afterwards, I gathered up my pack, smiled at the other pilgrims, each having their own moment, and set off on my journey. My pack somehow seemed so much lighter, my gait so much more confident. I believe I left the grief behind. I felt so much more alert and happy.
Returning to my new retired life I go to Mass once a week. Jay would have liked that.
Craig Simpson, Somerville MA
Book Reviews and Articles
Survival – Living with the Death Penalty
Ada Twist, Scientist – Book Review
Strictly No Elephants – Book Review
Classic Resources for Learning about Moral Development of Young Children
History Corner