P.E.A.C.E. Members are not expected to pay dues, but contributions are welcome to help us meet expenses. Please
donate
to help us take action!
Why Join P.E.A.C.E.?
Joining P.E.A.C.E. connects you to a network of parents, teachers, and advocates dedicated to creating a safer world for children through activism and by taking action.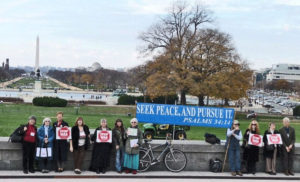 When you join P.E.A.C.E., you also become a link in the P.E.A.C.E. network. You will join our work to give children a chance to thrive in peace and well-being! Our goal is to support the activism of our members in their work for a peaceful world for children.
What You Get When You Join P.E.A.C.E.
When you join P.E.A.C.E., you join a network of teachers, parents, and advocates working together. As a member, you will be invited to special events and gain access to exclusive resources and a monthly electronic News and Action update.
Special Events include our Annual Meeting (held during the NAEYC National Conference), P.E.A.C.E. seminars, and workshops held during the conference. As a part of your annual membership with P.E.A.C.E., you will also receive a newsletter and resource packet.
P.E.A.C.E. members in some areas work together as participants and advocates at local early childhood events. Members are encouraged to contribute ideas, activities, and resources to the newsletter and website to spread the work of P.E.A.C.E. through other networks. P.E.A.C.E. has affiliates in Massachusetts and California. Both serve as rallying points for local action. Members of the California affiliate started and continue to develop the Center for Social Change, an Advocacy Center, at the CAEYC annual conference. P.E.A.C.E. also holds an annual retreat in June or July to plan activities for the upcoming year.
Finally, you are also invited to join Act4PEACE, where members post action messages and share information. All materials published by P.E.A.C.E. are available to be reproduced and distributed.
So, are you ready to join?
Alternatively, mail a paper copy of the membership form to the following address: Lucy Stroock, Treasurer, 55 Frost St., Cambridge, MA 02140. Any person sending a donation will be considered a member unless the donor requests otherwise. P.E.A.C.E. is a project of the Survival Education Fund, a charitable organization entitled to receive tax-deductible contributions under the Internal Revenue Code.
Download the Membership Brochure (PDF)