P.E.A.C.E. works to help teachers, children, and families learn and live nonviolent approaches to conflict resolution for public and private personal and community issues. In our peace education approach we work to develop the attitudes, understandings, and methods of nonviolent action needed to build peace, caring, justice, and mutual respect within ourselves, others, and in our environments.
This peace education approach is embodied in our workshops at NAEYC Conferences. We are continuing to try to convince NAEYC that P.E.A.C.E education must be the foundation for its new position statement on violence in the lives of children.
P.E.A.C.E. also works with public officials when issues arise that relate to meeting the needs of children and families for security and well-being.
Resources and Links
See our resources for Peace Education, including online resources, bibliographies and children's literature recommendations.
Visit the following online resources:
Peace Camps
Peace Camp is an alternative day camp experience which fosters an understanding of peace, justice, and environmental awareness through an anti-bias perspective appropriate to the needs of the children and youth involved.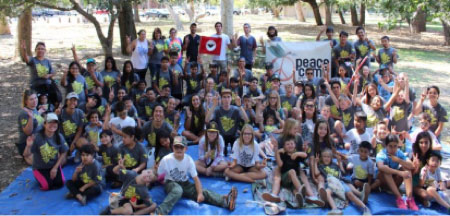 Campers learn tools to help create a cohesive social community; respect for self, others, and the environment are explored and practiced through the development of concepts. The Peace Camp program weaves together activities which promote the knowledge, attitudes, and skills necessary to advocate for a peaceful world, all while having fun and making friends. The issues which arise from the camp community itself are developed and integrated into the program.  Our Staff and Youth Leaders bring to the table a variety of backgrounds and experiences, each with a passion for making the world a better place. By learning to use the diverse skills, traits and qualities of each person, we have developed Peace Camp into a life-changing experience for campers, youth leaders, staff, parents, and the community.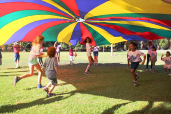 "On the journey for social justice advocacy, the Peace Camp community strives to inspire local and global change.  We have planted trees, provided clothing and support for homeless children, and cleaned up natural environments." Peace Camp is truly an experience unlike any other, one in which campers and youth leaders alike are able to explore their own passions to become an activist for change and make the world a better place.
Learn more about Peace Camps:
Support the US Department of Peacebuilding
P.E.A.C.E. continues to work to support efforts in the U.S. House of Representatives, to create a Department of Peacebuilding, calling for the elevation of the U.S. Institute of Peace to a Cabinet-level Department. The primary function of the Department of Peacebuilding will be to research, articulate, and facilitate nonviolent solutions to domestic and international conflict.
Resources:
Promote World Peace
P.E.A.C.E. has passed a Resolution, urging NAEYC and all early childhood organizations to tell our leaders that war is not good for children or any other living things. It undermines children's sense of security and the hope that conflicts can be resolved without violence.
Since its inception in 1979 P.E.A.C.E. has advocated for nuclear disarmament. We believe that we have a responsibility to our children, grandchildren and future generations to end the threat that nuclear weapons pose to humanity and all life.
Resources: