Take Action
P.E.A.C.E is an Activist Organization.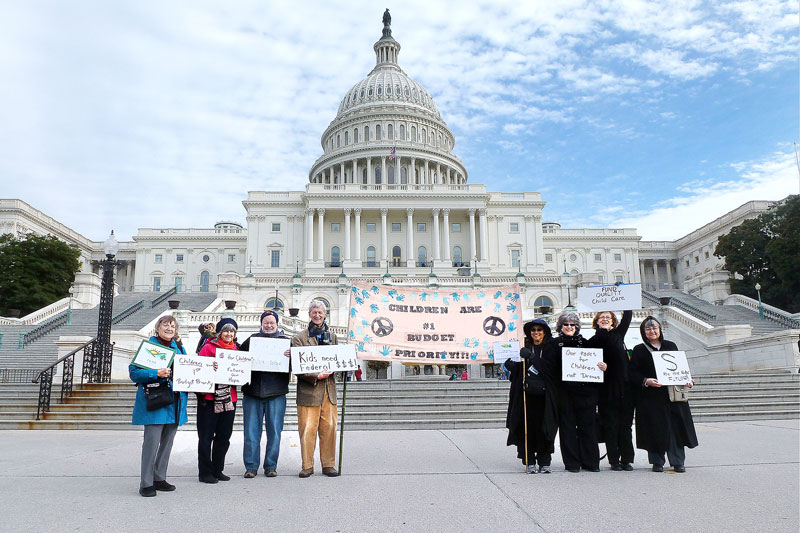 We act on public issues related to our purposes, to help young children grow up in a peaceful family, school, community, country and world. Peace starts within each of us, then in our immediate contacts, including the children and families with whom we work, and only then with our neighborhoods, communities, and wider jurisdictions.
---
Anti-Racism Statement
• The members of Peace Educators Allied for Children Everywhere (P.E.A.C.E.), as parents, teachers and other concerned individuals, are dedicated to helping every child live in a nonviolent, just, inclusive and respectful world.
• We must acknowledge, listen and educate ourselves on the legacy of racism in our country, both personal and systemic.
• It is time for America's racist culture to stop destroying lives, our communities and the planet.
• We have an opportunity to help make this change possible.
As children grow, they experience diversity, including differences in skin color and culture. As peace educators we must:

• Help the young children with whom we work and play to learn to appreciate how they and their classmates are alike and different;
• Lead in creating a peaceful environment for all the children;
• Show them how to maintain peaceful relationships with each other;
• Help them share respectful listening and peaceful relationships in their lives together and apart; and
• Help them build a culture of kindness.
In these efforts each of us must continue to:
• Listen,
• Learn,
• Share information, and
• Commit to restoring justice and mutual respect with our allies to help abolish racism.
Action Alerts! May 2021
Please Get Vaccinated!
Now that vaccinations against COVID are available everywhere, we suggest that your own health and that of your coworkers, children, and families will be improved if you get your vaccination soon. Thank you if you have already done so.
---
Help Your State Implement the Federal Child Care, Preschool, and Parental Tax Credit Parts of the American Rescue Plan
The recently passed American Rescue Plan legislation includes about $39 billion for significant improvements in child care and mixed-delivery public preschools for children 3 and older, and it gives parents increases in child care subsidy amounts and eligibility ceilings. The States are implementing these provisions, but some States need our encouragement to restore viability to the child care industry. 
In addition, that legislation gives a one-year boost in the Child and Dependent Care Tax Credit, so that parents get a cash-refundable deduction from any (or no) income tax liabilities of half of up to $8,000 for the fees for one child in care, or $16,000 for two, decreasing to $0 for family incomes between $125,000 and $440,000. Please let the parents in your program know about this benefit, which should mean that they can afford to pay for high quality child care for 2021 at least. Read details on this tax credit.
---
Urge Your Representative and Senators to Support the American Family Plan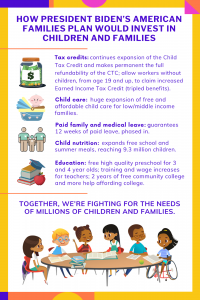 P.E.A.C.E., Inc., gives our strong support for the American Family Plan (AFP) introduced by President Biden on April 28, 2021 in his first speech to Congress. The early childhood provisions of that Plan closely paralleled the Child Care For Working Families Act, H.R. 1364, earlier introduced by Senator Patty Murray (WA) and Representative Bobby Scott (VA), with abundant support from NAEYC and many other organizations 
The AFP would restructure child care throughout the US to make high quality care available to all families, pay child care providers/teachers the equivalent of public school teachers, and help those providers with the costs of professional education and training. The AFP is under active consideration on both sides of the Capitol, and parts or all of it could be included in the budgetary provisions of the President's Build Back Better Plan. (Full text of the White House Press Release; NAEYC's supporting statement.) 
At a cost of $225 billion, the AFP would subsidize the full cost of care for families earning below 75 percent of State median income, cap child care expenses at 7 percent of income for families earning between 75 percent and 150 percent of that amount, and have a sliding scale of reduced support for families earning more than that. Families that pay for child care (including after-school and summer care) would be able to get a tax credit for 50 percent of those expenses, up to $4,000 for one child and $8,000 for two or more children, if earning less than $125,000 per year, with a smaller percentage for richer families. The family could choose center or family child care, Early Head Start, or public school Preschool. The AFP would give additional help for dual language-learners, homeless children, children in foster care, children with disabilities, and children whose parents work non-traditional hours. Child care, Head Start, and public preschool programs would be financially supported to have low student-to-teacher ratios, developmentally appropriate curriculum, and inclusive, supportive classroom environments. 
The American Rescue Plan's Child Tax Credit (independent of child care expenses) would be expanded to $3,000 for a child of 6+ years, and $3,600 for a child under 6, and would be not just for 2021, but permanent. It would be paid during the year rather than with the taxes, so child poverty would be reduced even more.
The AFP would devote $200 billion, prioritizing high-need areas, to fund States' mixed-delivery high quality public preschool systems for 3 and 4 year olds from low and moderate-income families, and would turn Head Start programs into full day and full year sites. 
Child care and Head Start workers would be paid at least $15 per hour to begin with, then in parity with public elementary school teachers with similar credentials and experience. Child care professionals seeking additional training and education or starting new child care programs would be helped with free community college classes and other training, and expanded (up to $8,000 per year) teacher-training scholarships and Pell grants for basic degrees and advanced credentials. Mentoring, coaching, and leadership programs would be supported, especially for teachers and teacher candidates of color.
The AFP's paid family leave plan would provide partial wage replacement to allow parents to bond with their new babies, as well as deal with caregiving for other family members. The Nutrition Help plan would extend free meals for low-income students to year-round programs, and would expand them to entire schools in low-income areas.
Chairman Neal of the House Ways & Means Committee introduced another Bill, the Building an Economy for Families Act, on the same day as the President's speech, which would add to his AFP several useful provisions that would:
•   Increase funds for the Child Care Entitlement to States program and index the funds to grow with inflation and child population;
•. Establish a Child Care Information Network (CCIN) for parents and caregivers to access frequently updated information about available child care slots that meet their needs in their communities;
•   Provide a new refundable payroll tax credit for child care providers to raise wages of essential child care workers; and
•  Invest $15 billion in the physical infrastructure of child care facilities.
In short, the US child care system would be made much more like the early childhood support systems in most other developed countries, improving the competitive stance of America's economy for the long term. This Plan is worth our best efforts to persuade your Senators and Representative to give it their co-sponsorship or best support. Unfortunately, the AFP is only one part of a very long laundry list of pleasing policies that the President wants to pass in a divided Congress, so we need to push hard for them to do the right thing for our children. 
Your Senators and Representatives need to hear just why we need to give priority to the early childhood parts of the AFP, as well as Senator Murray and Chairman Neal's initiatives. Please call (202) 224-3121 to connect with your Congresspeople, or go to their websites to make comments, and get the families and children in your program to write and call them.
Each month our members get our news, starting with a message like the one above. Join our organization to receive the latest Peace News in your inbox.
First Steps
Take Action with these Quick Links
Call Leaders
Tell our leaders to reduce war spending and to use weapon money to help young children grow.
US Congress
(202) 224-3121
President
(202) 456-1111
Speak Up
Speak up for the incalculable number of children currently victimized by war and bias.
Contact your US Representatives and Senators.
Contribute Directly
Help victimized children directly by contributing to organizations such as:
Take Action Today
Choose a Cause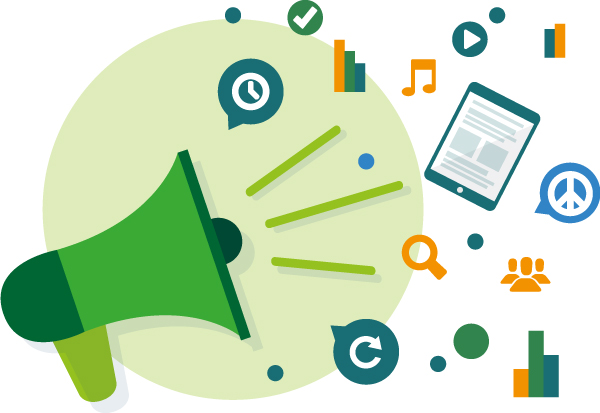 Join the Actforpeace List Serve
P.E.A.C.E. has an action arm, a list serve called Actforpeace, which alerts its members by email to opportunities for public policy actions to help children (and their parents and teachers) survive and thrive in a more peaceful, healthier world. The messages mostly relate to the action agenda items described below. Any participant in the list serve can initiate messages, and they come maybe 5-10 times a month. To join the list serve, send a message to 1peaceeducators@gmail.com, asking to be invited to join.
Help Us Take Action
Join or Donate