Strictly No Elephants
By Lisa Mantchev, illustrated by Taeeun Yoo, Simon Schuster, 2015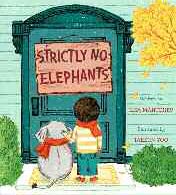 Pet Day is here and there will be cats and dogs and fish, but strictly no elephants are allowed. This charming book shows that friends come in all shapes and sizes. The story is about being excluded and being brave enough to problem solve a solution that includes others. At the end of this picture book, the restrictive message is changed to "ALL ARE WELCOME" and you witness multiethnic, multi-species harmony, a true peaceable kingdom. I appreciate the storyline showing how friends can work together, showing resilience and self-confidence, and the joy of having a pet. The cheerful illustrations depict children playing and a wide diversity of pets; including an armadillo, skunk, bat, and porcupine. The story is told in a first-person narrative that young readers will enjoy over and over.
Karen Kosko, Cambridge MA