CEASE's 2011 Fall Packet included news of our Summer Retreat (reported below), as well as participation in August's Save Our Schools March and our plans for the 2011 NAEYC Conference. It also included our recommendations for other sessions at that Conference.
Cease and LGBT Interest Forum Collaborative Session
This year CEASE/Violence in the Lives of Children and the LGBT Interest Forum collaborated on an extraordinarily successful session. Our session titled, "How can preschools help before bullying begins toward lesbian, gay, bisexual, and transgender children? A teacher's role in empowering adults and children to change the future," was attended by a variety of participants including new and experienced teachers, administrators, and college educators.
Lucy Stroock introduced the interest forum's collaborative session and Steve Schuman, in his clarification of the purpose of the session, skillfully set a tone of safety and trust.
Brian Silveira, Sharon Davisson, and Irene Lipshin then shared short stories that illustrated how rewarding and also challenging they found it to be to work toward creating an inclusive and just learning community. At the end of each story, the panelists offered queries to inspire the round table discussions. There was notable engagement by the attendees in the discussions – the room was filled with lively and meaningful sharing.
Bibliographies of books for children and resources for adults that have been prepared for this seminar are available on our Bibliographies page.
Members of the collaborative team agreed that the year-long process of exchanging ideas and beliefs, as well as resources, resulted in the development of a genuine caring relationship between these two activist interest forums.
CEASE 2011 Peace Award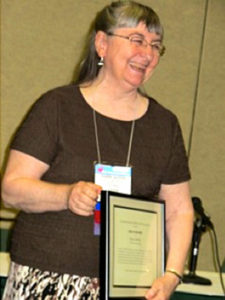 Sharon Davisson accepts CEASE Peace AwardAt the end of the collaborative session, we presented the 2011 CEASE Peace Award to Sharon Davisson, a long-time early childhood educator and peace activist, and Harvey Steiner, who was unable to attend the conference. Harvey's expertise and commitment to CEASE has made it possible for us to create an engaging and valuable website.
CEASE/Violence in the Lives of Children Interest Forum Meeting
During our annual meeting we agreed that our collaborative session was an outstanding experience for everyone involved. A suggestion was made that we contact the Play, Policy and Practice Interest Forum and see if they would be willing to collaborate with us on next year's seminar with the objective of building a movement of EC educators advocating for play. Diane Levin reminded us that we need to help others understand why play is more important now than ever. We also discussed our support of the Save our Schools movement. Diane and John reported on the NAEYC Position Statement on Technology which will likely be approved at the January Governing Board meeting which John Surr plans to attend. Finally, we set the dates for our CEASE 2012 Retreat in Nevada City on June 21-24 with a R&R in Sierra City June 24-26.
CEASE Comments on Draft NAEYC Technology Position Statement
In May 2011 CEASE collaborated with a number of allied organizations and individuals to urge NAEYC to make significant changes in the draft of a position statement on technology, including the media-related issues that we and our members have been working on for years. Click here to view CEASE's comments to NAEYC, including a link to the statement sent by the larger group.