Interest Forum Sessions
Our CEASE session "Empowering children to cultivate peacemaking and democratic life skills" was well attended and warmly received.  Having the conference at the capital, the seat of our country's government, was inspiring to our presenters, Craig Simpson, Irene Lipshin and Sharon Davisson.  Our power point demonstrated how Dan Gartrell's ideas in Educating for a Civil Society align with our long-time peace education practices.  We also shared stories and photographs related to empowering children at the very earliest age to be active participants, how to create a democratic learning community, and finally, examples of how these peacemaking skills and democratic values are demonstrated throughout individual's lives.
CEASE sponsored the Defending the Early Years (DEY) presentation Finding Your Voice: Becoming a Teacher-Activist.  The panel presentation and discussion sessions were well received.  One of the panel members was a long-time CEASE member and current Peace Award Winner, Karel Kilimnick who shared her powerful and ongoing work with the Philadelphia Coalition Advocating for Public Schools organization. 
CEASE also sponsored the Campaign for a Commercial Free Childhood (CCFC) session Nurturing early development in a commercialized world:  What educators can do to prevent advertising and marketing harm by our recent Peace Award winner, Susan Linn.  The participants were enthusiastic about Susan's convincing presentation related to the harm commercialization can bring to children's growth, development and creativity.  Of course, Audrey Duck unsuccessfully argued against the points Susan was making.
CEASE member and Defending the Early Years (DEY) senior advisor, Diane Levin presented the NAEYC featured session, Beyond Remote-Controlled Childhood: Teaching Young Children in the Media Age. An estimated 1,000 educators attended and responded enthusiastically to Diane's message about how to counter the adverse effects of popular culture and exposure to media on today's young children.
CEASE Annual Peace Awards and a Legacy Peace Award
We honored one of our most devoted and treasured CEASE members, Chris Lamm with our first Legacy Peace Award. We prepared a Dia de los Muertes display in honor of Chris, whose presence we all missed. Pictured are Lucy Stroock and John Surr, who is holding Chris's Legacy Peace Award.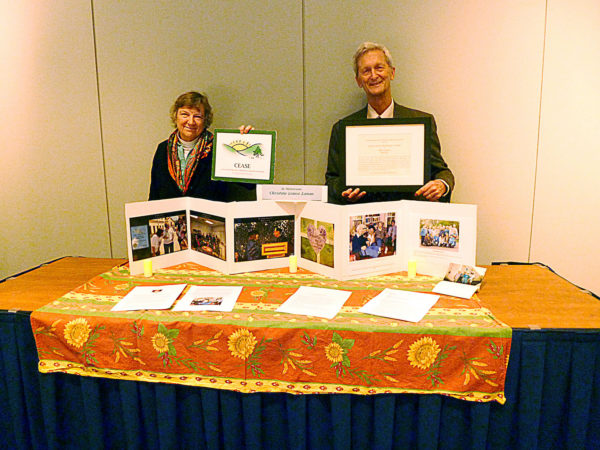 2013 CEASE Peace Awards
To Karel Kilimnik and Fran Rozonowski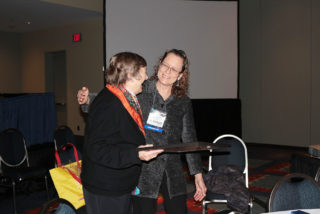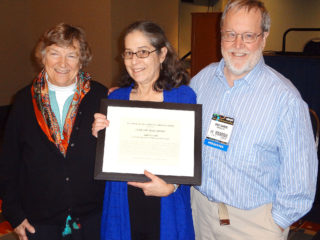 CEASE Annual Interest Forum Meeting
       We began this year's Interest Forum meeting with a time of silence in memory of those close to CEASE who have died in the past year:  Chris Lamm, Heidi Smith's husband, Frank Petrosino, and Craig Simpson's brother, Jay.  Lucy Stroock presented our Legacy Peace Award in honor of Chris Lamm and then presented the CEASE annual Peace Awards to Karel Kilimnik and Fran Rozonowski.
We agreed to have Joyce Daniels as the fourth member of our Executive Committee, replacing the late Chris Lamm.  Our major topic of discussion centered on choosing a topic for next year's Interest Forum seminar.  The 2014 NAEYC Conference will be in Dallas from November 6-8.  We decided to focus on how to communicate with children, other teachers, and parents about the uncomfortable realities in the children's lives that emerge in the classroom.  These realities can range from an incarcerated family member to abuse or a commonly experienced natural or human-caused disaster.  Diane Levin and Fran Roznowski are willing to participate on the panel, but not take a lead on the presentation.
Finally, we decided that postcards and emails will be sent out to the full CEASE list indicating a two-year limit on paper communications for those who have email capability and do not express a preference for paper.
CEASE at the NAEYC Interest Forum Café
Once again, CEASE folks and those interested in CEASE activities gathered at the Interest Forum Café.  Those of us who staffed our table enjoyed conversing with other Interest Forum members.  Many of the NAEYC Interest Forums are made up of activists that engage in "nudging" NAEYC to remain aware of issues of social justice.
CEASE demonstrated at the US Capitol
Several members of CEASE braved the below-freezing temperatures to demonstrate at the Capitol on Saturday. We hoisted our custom-made banner while handing out the CEASE current FYI on budget priorities. We had an interesting experience as a large group of tourists passed by and we got to hear the tour guide translate our signs and banner into German. Lots of "kinder" this and "kinder" that.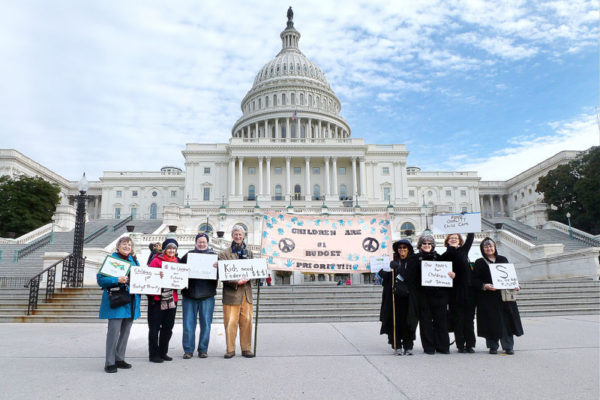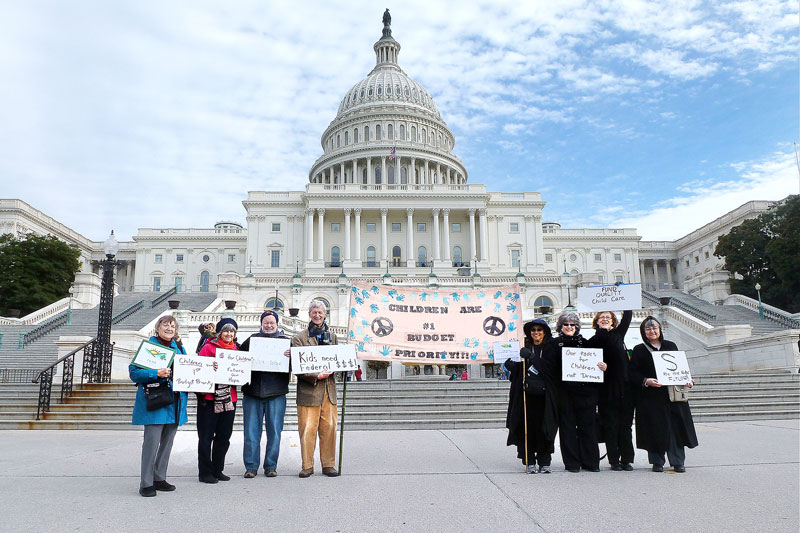 CEASE promoted and celebrated Universal Children's Day
With support from CEASE and several other organizations, John Surr initiated a celebration of Universal Children's Day, November 20, at the NAEYC conference. Universal Children's Day was established by the UN General Assembly in 1954, to recognize, appreciate, cherish and celebrate the children among us everywhere in the world. Thanks to John's perseverance and energy, over 2,200 handouts with ideas for celebrations involving young children and 700 stickers were distributed to educators who, in turn, may bring the celebration to their own communities.