This year, our CEASE session "Sensitive Issues: Responses teachers need when children reveal realities experienced in their lives" was well attended.  Our presenters Craig Simpson, Joyce Daniels, Marilyn Shelton, Veronica Hernandez, Lucy Stroock, and Karin Pavelek were inspired to present this subject by using our own classroom experiences. We proposed the following sensitive issues as examples: sexuality, gender, divorce, terminal illness, death, drugs, and violence. In our discussion we emphasized the importance of the word "sensitive", since this word can be interpreted differently per individual.
We shared 3 stories that occurred in or outside the classroom and presented the audience with queries that provoked informative round table discussions; Fran Roznowski offered support by facilitating one of the tables. Marilyn Shelton developed a checklist and resources for teachers; this will support them to become pro-active when any of these issues occur.  The list as well as the resources has been posted on the conference website.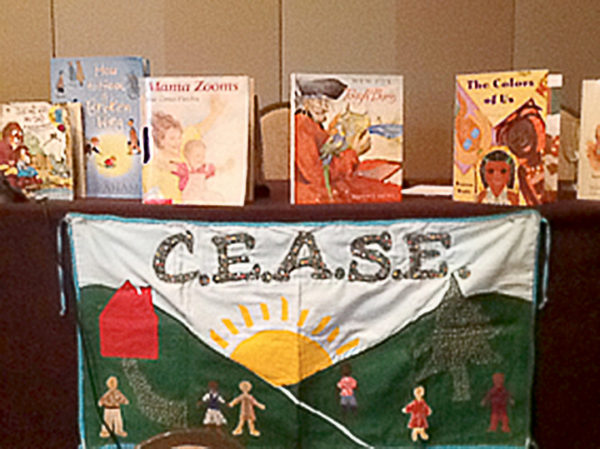 CEASE member and Defending the Early Years (DEY) senior advisor, Diane Levin, presented the NAEYC session "Beyond remote-controlled teaching and learning: Reclaiming early education from misguided academic mandates". This session focused on the impact of media and technology on children's learning, and how we can counteract by teaching young children through creative play and problem-solving.
CEASE member and Defending the Early Years (DEY) member Fran Roznowski, presented "Children and families who know about prison, need teachers to know about prison".  This session provided guided support to teachers and other professionals by providing them with appropriate approaches to use with caregivers and children in the classroom.
CEASE and Defending the Early Years (DEY) member Geralyn McLaughlin presented "Defending the early years' toolkit: Resources to help you advocate for appropriate practices for young children". This session provided an online toolkit for Early Childhood Activist. Today, we see more and more early childhood classrooms that have been added to the public schools, where the administration may or may not have an early childhood background. This session discussed the issues that occur and what early childhood teachers can do by using this toolkit.
CEASE member and founder of Campaign for a Commercial Free Childhood (CCFC) Susan Linn presented "Nurturing play, creativity, and learning in the 21st century: New challenges for early childhood professionals and how to meet them." This session emphasized the importance of nurturing hands-on, creative play in our today's society. Play is crucial for creativity, constructive problem solving, compassion, and critical thinking–all essential to learning and thriving in the 21st century. Strategies were discussed on how to help parents nurture play at home as well as the links between play and the skills necessary for 21st century success.