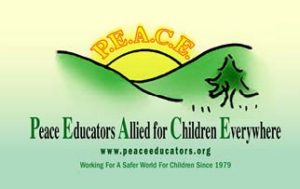 The P.E.A.C.E. Retreat Planning Committee
Wants to Know What You Think!
Tell us your ideas about this e-newsletter, the website, and
your participation in P.E.A.C.E. Please take a few moments to
answer this short 3-question survey by April 26. Thank you!
Action Alerts
Ask for $5 billion more Early Childhood for FY 2020!
NAEYC is asking all of us to contact Congress to appropriate more money for the coming year to build on FY 2019 gains for early childhood. Further CCDBG funding increases will ensure that children are not cut from child care programs, while continuing to eliminate waitlists, improve health and safety, and help children from working families access the high-quality early learning experiences that will help them be ready to thrive in school and life.
We also need to:
increase funding for Head Start and Early Start by $1.495 billion
provide at least $250 million for Preschool Development Grants
increase funding for early intervention services provided through the Individuals with Disabilities Education Act (IDEA) Part C (Grants for Infants and Families) by $61 million and for Part B, Section 619 (Preschool Grants) by $50 million
maintain and increase public school funds, particularly for Titles I and II, so that local school districts can invest in high quality early childhood programs and increase opportunities for early childhood teachers and school leaders.
Stop Screen Marketers' Abuse of Children's Trust!
Our friends at the Campaign for a Commercial-Free Childhood (CCFC) recently reported that: "Our allies in Congress have just proposed the strongest restrictions on marketing to children in 20 years." Senate Bill 748, introduced by Senators Hawley and Markey would:
Ban all targeted marketing to children under 13. That means no using kids' locations, interests, browsing habits, or anything else about them to target them with ads.
Hold companies like YouTube, Instagram, and Snapchat accountable for profiting off of the millions of underage children they entice to their sites.
Protect kids' data for longer. Privacy protections would extend to age 15, instead of stopping at age 13.
Create a child-focused division at the Federal Trade Commission to specifically enforce these new rules.
This is a huge deal – and it can't wait. Every day, tech companies collect billions of data points from kids – names, addresses, locations, likes, dislikes, browsing habits, search terms, and more. That data gets sold to marketers, who use it to target kids with highly manipulative, personalized ads designed to shape their behavior and values. Those ads follow kids and teens across devices: their tablets, phones, computers, smart speakers, and even TVs."
Please ask your Senators to co-sponsor S.748 and support it as it moves through Congress.
WHERE OUR TAX DOLLARS GO

Last month we gave you the War Resisters League Pie Chart. This month, in time for tax season, we update the pie chart with a new one, coming from the National Priorities Project, reflecting the new Trump-proposed budget before Congress.
Please do what you can to convince your Representative and Senators that the Pentagon gets far too much of our tax money, which would be put to much better use helping young children and their families survive and thrive.
Home Language in United Nations
Year of Indigenous Languages
By Craig Simpson
2019 is the United Nations Year of Indigenous Languages. Supporting home and family language is a key component of Early Childhood Education though rarely talked about. National Association for the Education of Young Children (NAEYC) accreditation maintains that home language is a small, but important criterion of the process. Particularly in this year of indigenous languages we as peace educators should honor these home languages.
In Massachusetts, the Wampanoag tribe had gone almost six generations or 150 years without a fluent speaker of Wôpanâak language. Both the language and the people were becoming extinct. Through the hard work of one tribal member, Jesse "Little Doe" Baird, the language was reclaimed from a variety of sources: old Bibles and land place names. She taught her daughter and later with tribal support opened a Language based Montessori school. Their story is described in a wonderful article "Mukayuhsak Weekuw: The Children's House" by Jennifer Weston, in Cultural Survival Quarterly for March 2019.
The early childhood field needs to support these efforts for families to reclaim and maintain their home languages. What native or indigenous people occupied the lands where you live? Are there native children in your program? Are their communities nearby?
Why not bring a native person to your program to teach children some words from that culture and language? Children pick up culture and language so quickly it would be good to have them learn new words regularly. It may have a big influence on their empathy and caring for others, and they may learn from their neighbors. Support the Year of Indigenous Languages and beyond.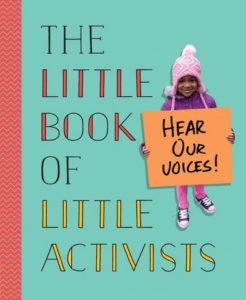 The Little Book of Little Activists – Book Review
Viking Books for Young Readers, September 2017
Ages 6-10
This picture book is a compilation of photos and quotes from children/ budding activists on the Women's March they attended in January 2017. The book's forward is a statement from Bob Bland, co-chair of the 2017 Women's March on Washington, and the afterword is by author Lynda Blackmon Lowery, who protested segregation with Dr. Martin Luther King Jr.
We all need to speak the truth and this book goes through issues like equality, democracy, activism and feminism and somehow avoids all political opinions. It sticks to the core issues. Also woven throughout are basic definitions related to the democratic process, including the meanings of democracy, equality, peaceful protests and freedom.
The empowering message is that you're never too young to care about your own community. This is how real kids exercise their First Amendment rights. Toddlers to preteens are carrying signs—some of which they plainly made themselves conveying a range of ideas from "IMMIGRANTS: We Get THE JOB DONE" to "i [heart] naps but i STAY WOKE". Both the children and the grown-ups around them, in the photos, are racially diverse.
In the quest for social justice, teaching children to advocate for themselves and others is important. I recommend this inspiring reminder that people of any age can celebrate political activism by America's youngest citizens, our children.  The book is perfect for parents and educators who want to raise their kids to become participatory members of a democracy. A portion of the proceeds benefits the Children's Defense Fund.
Reviewed by Karen Kosko
Moving Forward: You're Important to Us!
We are eager for new members, and active members. Spread the word and let us know how you would like to be engaged at 1peaceeducators@gmail.com.
Help bring our unique insights and skills to the profession and the public! If you would like to bring P.E.A.C.E.'s perspective to more teachers on the ground working with young children, there are opportunities both in person at and online. Email us at 1peaceeducators@gmail.com.  Particularly on NAEYC's HELLO open forum, we have seen opportunities to engage on these issues. If you would like to get more involved with any P.E.A.C.E. activity (e-newletter, P.E.A.C.E. projects, sharing at conferences, and more), please drop a line to 1peaceeducators@gmail.com.
P.E.A.C.E. has been working for you since about 1979 to make this world a better and safer place for our children to grow and thrive. We are managed by the consensus of a group of our most active members, called the Worker Bees, who meet at the NAEYC Annual Conference, and also for four days each year in the late spring.
Join actforpeace@goooglegroups.com to follow our members' recommended actions and share your own!  You can request to sign up by e-mail at 1peaceeducators@gmail.com or directly through Google Groups.  We hope you will spread the word about the actions by forwarding them on to others.
Since we don't charge dues, we count on donations from those who are able to continue our work. Look for a PayPal donation option on our website, or mail your check made out to SEF / P.E.A.C.E. to:  55 Frost St.  Cambridge MA 02140.