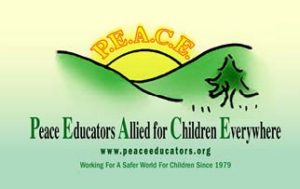 Action Alerts
This issue is all about action!
STOP THE NEW ARMS RACE!For those readers unfamiliar with the origins of P.E.A.C.E., it grew out of the anti-nuclear movement of the 1970s. Of course, the group's goals and activities have broadened since then, but recent events move us to return to the need for immediate action on the issue that was central when we were founded. The following is based on a statement developed by the Win Without War project. For a sample letter to send to your U.S. Senators, click below.
Breaking: Trump just opened the door to a new nuclear arms race. Demand that your U.S. Senators join in stopping Trump from immediately building banned nukes.
There's no other option: We need to mobilize – fast – to prevent Trump from dragging us headfirst into a new nuclear arms race.
We have a spark of hope to stop Trump's plan. Eleven bold senators just introduced a bill – S. 312, the Prevention of Arms Race Act – that denies Trump funding to build these new nukes right away.
But eleven senators isn't enough – not when most senators (and I'm talking senators from both parties!) are used to approving every penny in Pentagon spending that Trump asks for. Recently they voted overwhelmingly to appropriate money to build fancier, more deadly nukes.
That's where we come in. Constituent pressure is going to make or break S. 312. And we – and the world – cannot afford to lose this fight. The following link leads to a sample letter.
Please, urge your U.S. Senators to cosponsor the Prevention of Arms Race Act and block Trump's banned nukes.
The good news is, it already has eleven powerhouse senators behind it: Senators Jeff Merkley, Elizabeth Warren, Kamala Harris, Bernie Sanders, Dianne Feinstein, Kirsten Gillibrand, Ed Markey, Ron Wyden, Chris Van Hollen, Tammy Baldwin, and Sherrod Brown. And that surge of support is a huge reason to be hopeful.
But it's not enough. Trump has made it clear that he wants to start manufacturing the dangerous nukes banned by the treaty immediately – before he can even officially withdraw under the terms of the treaty.
That's where we come in. We need to jump into action to push this bill through the Senate and slam the brakes on Trump's plan, before his banned nukes start rolling off the production line! Demand your senators refuse to fund Trump's banned nukes.
No First Use of Nuclear Weapons!
Representative Smith, Chair of the House Armed Services Committee, and Senator Elizabeth Warren recently introduced the No First Use of Nuclear Weapons Bill, to declare that as the policy of the United States Government. Please mention your support for that Bill when contacting your legislators.
Give Congress Back Its Constitutional War Powers!
After 9/11, Congress authorized the President to go to war against Islamic terrorism. Since then, that authorization has been used and abused to get us into wars all over the world. Congress needs to reassert its duty under the Constitution to decide when and in what circumstances our Government goes to war. The Senate passed in December 2018 a resolution to do just that in relation to US involvement in the war in Yemen, and now both Houses of Congress have bipartisan Joint Resolutions calling for the withdrawal of US military involvement in the war in Yemen: SJ Res. 7 (Sanders) and HJ Res. 37 (Khanna). Please urge your Senators and Representative to support these resolutions.
Join P.E.A.C.E in co-sponsoring the Campaign for a Commercial-Free Childhood's letter to Mark Zuckerberg, telling him to pull the plug on Facebook Messenger Kids
Here are links to the letter and the press release on CCFC's website. Senators Markey and Blumenthal have also joined in the request, and the news media are hopping on the bandwagon. You can express your individual support at https://ccfc.salsalabs.org/fbmessengerkids/index.html.
Communicate with Senators and Representatives Now
In addition to the immigration and war-related issues above, please communicate with the members of the new Congress about increasing funding for early childhood programs, and for reducing bloated Pentagon spending and US involvement in futile wars overseas. If you're planning to attend NAEYC's Public Policy Forum in Washington, DC, on February 24-26, that would be a good time to give them these messages as well as NAEYC's.
P.E.A.C.E. Welcomes Your Activity and Advice
P.E.A.C.E. has been working for you since about 1979 to make this world a better and safer place for our children to grow and thrive. We are managed by the consensus of a group of our most active members, called the Worker Bees, who meet at the NAEYC Annual Conference, and also for four days each year in the late spring. If you would like to join that group, meeting in Newton, MA, from May 30-June 2, 2019, and take a more active role in our organization, please get in touch with 1peaceeducators@gmail.com, with some details about yourself and your interests and experience regarding peace education.
Moving Forward: You're Important to Us!
We are eager for new members, and active members. Spread the word and let us know how you would like to be engaged at 1peaceeducators@gmail.com.
Join actforpeace@goooglegroups.com to follow our members' recommended actions and share your own!  You can request to sign-up by e-mail at 1peaceeducators@gmail.com or directly through Google Groups.  We hope you will spread the word about the actions by forwarding them on to others.
Since we don't charge dues, we count on donations from those who are able to continue our work. Look for a PayPal donation option on our website, or mail your check made out to SEF / P.E.A.C.E. to:  55 Frost St.  Cambridge MA 02140.