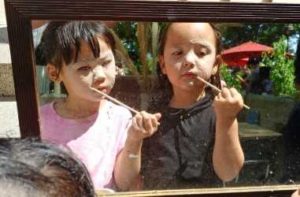 International Mud Day started at the 2009 World Forum event by two women: Gillian McAuliffe from Australia and Bishnu Bhatta from Nepal. Both discussed the challenges faced in their own countries, when thinking about children playing in mud. In Perth, Australia, it is the lack of creating mud due to the dry environment; whereas in Nepal, children are refrained from "getting dirty" due to the lack of soap and extra clothing. Upon return to her home country, Gillian shared this story with her community school's students and together, they raised money to provide clothing for the children in Nepal so they could play in the mud. Feelings of encouragement and collaboration soon spread around the globe, inspiring other schools, educators, families, and children to participate in this celebration.
Playing in the outdoors provides young children with timeless unstructured play opportunities as well as opportunities for exploration and investigation. Being in nature is not only healthy for our physical bodies, but our mindsets as well. Each year, people no matter what background, race, age, or gender celebrate International Mud Day together on June 29th. Read more about this celebration on the World Forum Foundation website.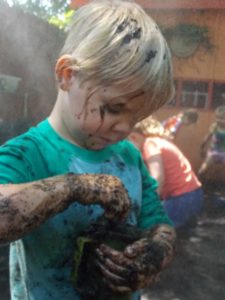 Pictures from the Fullerton College CDES Laboratory School (California); families, faculty, administrators and staff coming together to celebrate this special day.