NAEYC Conference Proposals Due February 1st
Peace Education Interest Forum Can Help
NAEYC has set February 1 as the final date for submission of proposals to present at its Annual Conference in Nashville, TN, November 20-23, 2019. P.E.A.C.E. members should be aware that our friends in the NAEYC Peace Educators Interest Forum have a choice to submit one or two Conference proposals as an Interest Forum, that have a higher chance of acceptance than in the usual process for Conference proposal review. If you are planning to submit a peace education-related proposal, please inform one of our facilitators: John Surr, jvsurr@gmail.com, Marilyn Shelton, marilynshelton@gmail.com, Joyce Daniels, joycean@sbcglobal.com, or Lucy Stroock, stroocklucy@gmail.com. We can work with you to enhance your proposal's chance of success. We all need to work together to give greater visibility to P.E.A.C.E. educator issues to further our vital work for peace education.
Action Alerts
Government Shutdown
Together with you we oppose the continuing partial U.S. Government shutdown, that has brought totally unnecessary misery and financial strain to many families and their children affected by the shutdown.  We hope that you will keep up the pressure on the President and Congress to resolve the issue now!
Imprisoned Immigrant Children Separated from Their Families!
The latest news about migrant children being held in detention is that the big tent city in Texas near Tornillo has been closed.  And the Trump Administration has stopped insisting on fingerprints from relatives seeking to care for the previously detained children.  These are positive developments, but they resulted from a huge public outcry over abuses of the children's rights and physical and mental health, leading to at least 2 deaths.  The continuing gassing of migrants near the border, including families with children, is another sign of the Administration's disregard of the human rights of migrants seeking asylum.  We need to keep the pressure up on the Administration to give all these children a better chance for a successful life.  If you haven't yet signed the ACLU's petition to protect migrant children from ICE abuses, please do so now at https://action.aclu.org/petition/cbp-stop-abusing-children.
Give Congress Back Its Constitutional War Powers
After 9/11 Congress authorized the President to go to war against Islamic terrorism.  Since then that authorization has been used and abused to get us into wars all over the world.  Congress needs to reassert its duty under the Constitution to decide when and in what circumstances our Government goes to war.  The Senate passed in December 2018 a resolution to do just that in relation to US involvement in the war in Yemen, but new legislation is needed in the new Congress in 2019.  Please urge your Senators and Representative to support such a resolution.
Communicate with Senators and Representatives Now
In addition to the immigration and war-related issues above, please communicate with the members of the new Congress about increasing funding for early childhood programs, and for reducing bloated Pentagon spending and US involvement in futile wars overseas.
Screen Time Often Hurts Peace Education
For young children, but especially for infants and toddlers, frequent, close, positive and playful personal interaction with their adult caregivers and other human beings is vital for their development, especially where their emotional self-regulation and social interaction aptitudes and skills are concerned. Screens, including phones, tablets, computers, and television sets, can't provide this interaction, except perhaps for caregiver-supervised video contacts with relatives. A recent American Academy of Pediatrics (AAP) report at http://pediatrics.aappublications.org/content/138/5/e20162591 concludes that for children younger than 2 years, evidence for benefits of media is still limited.  However, "there continues to be evidence of harm from excessive digital media use." According to the report, "adult interaction with the child during media use is crucial."
For preschool-aged children, the AAP adds, "It is important to emphasize to parents that the higher-order thinking skills and executive functions essential for school success, such as task persistence, impulse control, emotion regulation, and creative, flexible thinking, are best taught through unstructured and social (not digital) play, as well as responsive parent–child interactions."
Our long-time friends at the Campaign for a Commercial-Free Childhood (CCFC), www.commercialfreechildhood.org, have worked with us for many years to limit the role of electronic media in the young child's life. Not only are children mercilessly exploited by commercial merchandising through electronic media, but the amount of time that young children and their caregivers devote to these media instead of to each other is addictive. CCFC has abundant resources for those who want to work on these issues.
The essential message for parents and caregivers is that for children to learn how to get along with one another and the world they live in, personal contact is far better than electronic media or digital devices.
P.E.A.C.E. Welcomes Your Activity and Advice
P.E.A.C.E. has been working for you since about 1979 to make this world a better and safer place for our children to grow and thrive. We are managed by the consensus of a group of our most active members, called the Worker Bees, who meet at the NAEYC Annual Conference, and also for four days each year in the late spring. If you would like to join that group, meeting in Newton, MA, from May 30-June 2, 2019, and take a more active role in our organization, please get in touch with Lucy Stroock, stroocklucy@gmail.com, with some details about yourself and your interests and experience regarding peace education.
The Big Umbrella – Book Review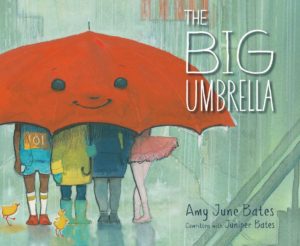 The Big Umbrella is developmentally appropriate and engaging for 2-7 year olds, written and illustrated by a mother-child team Amy and Juniper Bates [Simon & Schuster].
Author/illustrator Bates applies her signature watercolor, gouache, and pencil style to a quiet story about a magical umbrella, a tale sparked by a conversation with her seventh-grade daughter, co-author Juniper Bates. It is cleverly illustrated, with such a positive message promoting kindness and inclusion.
The umbrella is a sweet character that loves to help and spreads a warm feeling of tolerance. As the story unfolds, the umbrella grows in size, its smile ever widening, "to give shelter." "It doesn't matter how many legs you have," the narrator assures. It is hard to read this book without thinking of our current events. "Some people worry that there won't be enough room under the big umbrella," the narrator warns. "But the amazing thing is…there is" – demonstrating inclusion, hospitality, and welcoming the "other."
The final spread of this stellar picture book is an illustration of diverse people in a park – multiple ethnicities, ages and physical abilities: from a wheelchair user to a woman wearing a hijab – to model acceptance needed in today's world. Worth purchasing this book that is socially conscious, peace promoting, and captures many of the sentiments we hope our children will learn about how to treat others. Page by page, everyone is invited and included, mirroring the concept of everyone having a seat at the table.
Perfect read-aloud even on a rainy day.
Submitted by Karen Kosko