Here's the latest from Peace Educators Allied for Children Everywhere:
You are receiving this P.E.A.C.E. News because you are a member of our organization.  We decided recently, at our 2017 Retreat at SOKA University in California, that we should be in touch with you more frequently, so we are putting aside our annual Spring Newsletters and Fall Packets, in favor of more frequent email communications with you.  As always, we'd welcome your opinions about this and our other decisions, via 1peaceeducators@gmail.com.  If you want to see our outstanding Spring 2017 Newsletter, with many glorious pictures that may have made the file size too big to fit into your mailbox, you can find it at https://www.peaceeducators.org/OurNewsletterArchives_2017.html.
New P.E.A.C.E. Website Coming Soon
At the July Retreat we decided on many changes in our organization and activities, most notably a totally revamped website that will be user-friendly on mobile devices.  The new website will be at the same address, www.peaceeducators.org, as at present, and we expect to have it online by the November Annual NAEYC Conference in Atlanta.  We have an exciting series of events planned there, which we'll describe in a later communication.
Our Annual Retreat, July 5-9, 2017
Our P.E.A.C.E. Worker Bee Council had a new generation of leaders present at our annual Retreat, for the first time in Southern California.  In addition to the new website, we decided on several new peace education and advocacy resources from our group, as well as a plan for transition from aging leaders to those who can lead us into the next generation.  The photo below shows us when we took a break after a hard day's work, at nearby Aliso State Beach.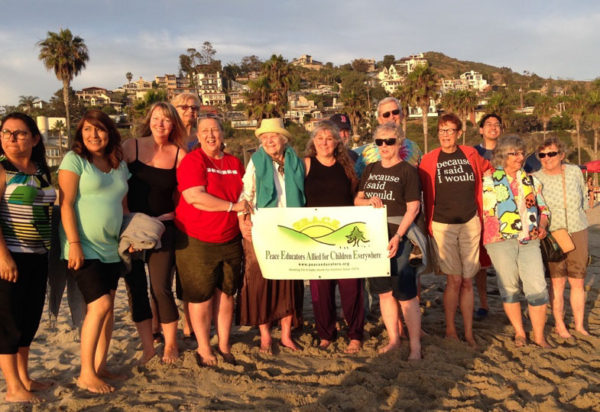 Interest Forum and Facebook Page Take Off
Last year we started a Facebook Page, Peace Educators, with over 200 friends following our several daily posts of interest to peace educators worldwide.  Join us by searching for our Page, then clicking "like".  And finally, NAEYC, through its members-only HELLO discussion website, http://hello.naeyc.org/communities/allcommunities, set up a way to interact with our over 1200 Peace Educators Interest Forum members.  We welcome you to interact with us either way, or directly by email to 1peaceeducators@gmail.com.