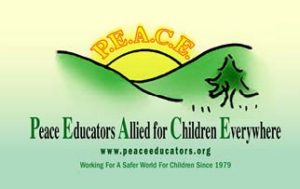 Roots of Peace
By Kerri Klugman
Peabody Terrace Children's Center believes that one of the roots of a peaceful society is in our children. That is why we have a strong Anti-Bias curriculum.
If children are taught from an early age to be aware of situations that are unfair and act to make changes so that 'justice prevails' then we will be one step on the way to a better world! Today Naomi was late getting to the snack table and we had only a couple of pieces of melon left. "I have one piece that Naomi can eat," said Theo. "She can have one of mine too," added Oscar.
If children can take one moment to think before they act, we often find great independent problem solving occurring. This is why we have regular yoga classes for the children and regular meditation classes for the teachers.
Children are like sponges. They soak up whatever is in their environment. If we teachers are calm in the face of challenges, then the children learn from our modeling to be calm too. Today Molly and Anika had a plan to paint together on the easel. When it was their turn Anika took a little too long to get over to the easel and soon Oscar was painting away with Molly. Anika came over and tried to join in, but it was a little too tight. Did a fight ensue? Was there pushing and crying? No, Molly explained, "There is not enough room." We asked Anika to wait until there was more room and she calmly moved away.
The whole atmosphere in the classroom is constructive and caring – instances happen almost all the time! How do teachers react to tension? Sometimes there are short fuses (we are all only human) but we are so lucky to have had a 7-week mindfulness workshop at the beginning of the year and now regular, weekly meditation classes to help us to maintain our composure in the face of the daily upsets. Michael, our meditation teacher, tells us, "Follow your breath. As you breathe in, you tone your Vagus nerve which triggers a 'rest and digest' response (the parasympathetic nervous system)." So, when we need to calm down, we know that our center is waiting for us, we take a slow, deep breath in and out, we find ourselves better able to manage the daily stresses of working with seventeen 3 and 4-year olds.
Yesterday Conley and I were talking about how our personal lives affect our teaching; we shook pinkies, took a deep breath, smiled and moved back into the stream of meeting the children's needs feeling a little more centered with our hearts touching in community.
Action Alerts
Ask for $5 billion more Early Childhood for FY 2020!
NAEYC is asking all of us to contact Congress to appropriate more money for the coming year to build on FY 2019 gains for early childhood. Further CCDBG funding increases will ensure that children are not cut from child care programs, while continuing to eliminate waitlists, improve health and safety, and help children from working families access the high-quality early learning experiences that will help them be ready to thrive in school and life.
We also need to:
increase funding for Head Start and Early Start by $1.495 billion
provide at least $250 million for Preschool Development Grants
increase funding for early intervention services provided through the Individuals with Disabilities Education Act (IDEA) Part C (Grants for Infants and Families) by $61 million and for Part B, Section 619 (Preschool Grants) by $50 million
maintain and increase public school funds, particularly for Titles I and II, so that local school districts can invest in high quality early childhood programs and increase opportunities for early childhood teachers and school leaders.
Pass the Child Care for Working Families Act, HR 3773!
Looking into a longer time-frame, and addressing the structure of government involvement in child care, the Child Care for Working Families Act, introduced last week by Senator Patty Murray and Rep. Bobby Scott along with numerous co-sponsors, would address the current early learning and care crisis by ensuring that no family under 150% of state median income pays more than seven percent of their income on child care. Families would pay their fair share for care on a sliding scale, regardless of the number of children they have. The bill would also support universal access to high-quality preschool programs for all 3- and 4-year olds. Finally, the bill would significantly improve compensation and training for the child care workforce to ensure that our nation's teachers and caregivers have the support they need, as well as the children they are caring for, to thrive. Our friends at NAEYC are strong supporters of this Bill. Please contact your Senators and Representative, to ask them to co-sponsor and support it.
Continue your pressure on Senators and Representatives to protect the world and its children from a renewed nuclear arms race, and to restore to Congress its War Powers, especially for Yemen.
WHERE OUR TAX DOLLARS GO
We are including in this newsletter the War Resisters League Pie Chart. The U.S. Government has different statistics and breakdown on where our federal dollars go. War Resisters League for years shows more closely where the dollars go – past, present and future wars. It shows how little in real dollars social programs actually get. P.E.A.C.E. has also endorsed the Congressional Progressive Caucus's People's Budget which gives alternatives to the present U.S. tax budget.
Go to https://www.warresisters.org/resources/wrl-pie-chart-resources-educators-and-activists for more information, and download the pie chart in Spanish. A PDF of the images below is at https://www.warresisters.org/sites/default/files/fy2019pie_chart_-_low_res.pdf
War Resisters "Where your income tax really goes"
War Resisters "Demilitarize the dollar"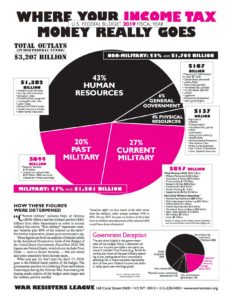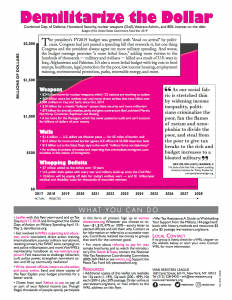 Immigration
Continue to push to stop Trump's wall, and for immigration policies to protect human rights and reunite parents with their children.
The House already had adopted a Resolution striking down President Trump's purported National Emergency as an excuse to build his Wall, and the Senate is likely to vote on it soon. In addition recently, Senator Van Hollen introduced a Bill to extend or expand Temporary Permanent immigration Status (TPS) designation for certain countries, or to provide legal permanent resident status for TPS recipients who have been living in the United States for a specified period of time, in the Safe Environment from Countries Under Repression and in Emergency (SECURE) Act (S.2144).
Global Climate Strike – Called by School Children on March 15
On March 15, 2019 school children in YouthClimateStrikeUS.org are calling for a Global Climate Strike. US Youth Climate Strike want a Green New Deal, a halt in any and all fossil fuel infrastructure projects, declaring a National Emergency on Climate Change, preserving public lands and wildlife, keeping water supply clean, compulsory comprehensive education on climate change and its impacts throughout grades K to 8. Support this climate strike in any way you can.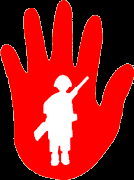 Support Red Hand Day, Every February 12
Red Hand Day is also known as International Day Against the Use of Child Soldiers. It is a plea to world leaders to better protect children from being recruited by military fighting forces. It is sponsored by Child Soldiers International, along with War Resisters International, (of which P.E.A.C.E. is an associate member).
For more information and projects for future Red Hand Days contact
http://www.child-soldiers.org. More than 5,000 children were released from militaries in the world as a result of Child Soldiers International.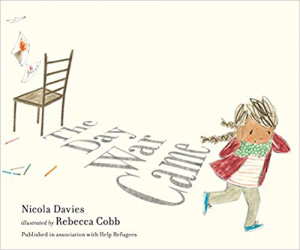 The Day War Came – Book Review
by Nicola Davies.
illustrated by Rebecca Cobb.
Published in association with Help Refugees, Candlewick Press, 2018.
From the dedication, "This book is dedicated to children who are lost and alone, and to those who help them", you understand that this is no ordinary book. The story is inspired by true events in the Middle East and the UK. The first pages depict a family having breakfast and through the window you see an image of a Middle Eastern city. The narrator, a young girl, is walked to school by her mom after breakfast on the day the war came. At first a voice of thunder, "then all smoke and fire and noise that I didn't understand" is how the war starts. The illustrations continue to explain how one becomes a brave refugee following our courageous narrator on her long, tumultuous journey, through a refugee camp, "to try to find a place war hasn't reached". Finally in England, she finds she is still not accepted.
The hope this book offers is how school children make a difference. When our hero is not allowed to participate because there is "no chair in the class", the generosity of a single child giving her a chair makes it possible for her to be included in her new life. From this act the #3000chairs Project was created to bring attention to all unaccompanied child refugees.
Although the story is intense, this picture book is significant and recommended for ages 6-9. The illustrations are whimsical and reveal an innocence. The final endpaper showing all the children with their own seat is meaningful.
Candlewick Press has a resourceful discussion guide for this thoughtful picture book. Available at http://www.candlewick.com/book_files/1536201731.bdg.1.pdf.
Submitted by Karen Kosko
Moving Forward: You're Important to Us!
We are eager for new members, and active members. Spread the word and let us know how you would like to be engaged at 1peaceeducators@gmail.com.
Join actforpeace@goooglegroups.com to follow our members' recommended actions and share your own! You can request to sign-up by e-mail at 1peaceeducators@gmail.com or directly through Google Groups. We hope you will spread the word about the actions by forwarding them on to others.
Since we don't charge dues, we count on donations from those who are able to continue our work. Look for a PayPal donation option on our website, or mail your check made out to SEF / P.E.A.C.E. to: 55 Frost St. Cambridge MA 02140.