Action Alert
Two important laws supporting young children expired on September 30, but their extension is being actively considered by Congress.
CHIP, the Children's Health Insurance Program, has been marked up by the relevant House and Senate Committees, but the larger bodies have not yet acted on the Committees' recommendations.
MIECHV, the Maternal, Infants and Early Childhood Home Visiting Program, has not yet gone through the relevant committees.
Please tell your Senators and Representative to support these two vital supports for America's young children, at increased funding levels if possible. In addition, we still need to gather co-sponsors for the Child Care For Working Families Act (H.R. 3773 and S.1806) and Promoting Affordable Childcare for Everyone (PACE) Act (S.208).
---
New Website
P.E.A.C.E. is proud to introduce you to our new Website, at the same address but with splendid new features, including readability on tablets (e.g., iPads) and cell phones. Using our twin focus areas of teaching peace to children and acting on their behalf for a more peaceful world, the website keeps most of the substantial content of the old website, but puts it into a new, more accessible format that will help us all to accomplish our common goals. Please give it a try.
NAEYC Conference to Showcase Progress for P.E.A.C.E.
The NAEYC Annual Conference in Atlanta, Georgia, from November 15-18, provides an opportunity for P.E.A.C.E. and our NAEYC Peace Educators' Interest Forum to reach out to a wider membership, and introduce our new brochure of resources for teaching peace education. On Friday, November 17, at the Conference, we will have our annual seminar, our annual meeting, and our annual Peace Awards in Room B308 at 3 p.m.
Our Facebook page, Peace Educators, has boomed this year, with often-liked daily postings and rapidly expanding participation. "Like" us and join in!
Our new resources brochure, assembled by experts and aimed at teachers and parents wanting to be more effective peace educators, will be available at the Conference and on our website and on NAEYC's HELLO: Peace Educators Interest Forum's page.
Conference Activities for P.E.A.C.E.
Conference Seminar
Our Conference Seminar is entitled: That's not fair! Cultivating Children's Activism. It will feature P.E.A.C.E. members Patrick Romero, Pat Dorman, Irene Lipshin, and Nadia Jaboneta, showing how teachers can help young children become agents of public change. Pat will tell the story of a primary-age classroom which explored the culture that challenges children who have both parents of one gender. Nadia and Jamie will talk about their preschool class, which explored gender roles and became actively involved, including a visit to the San Francisco City Hall, in the gender labeling of public toilets.
The handouts for the session can be found on our website at News/Events, or at http://precis.preciscentral.com//utils/ip/FindPresentation.asp?EventId=109a0ca3. When you get to that link, put "Romero" into the Presenter Name slot, then click "search". With that result, click on "That's Not Fair!", and you'll find the handouts at the bottom of the resulting small page. Here's an example of young children as activists: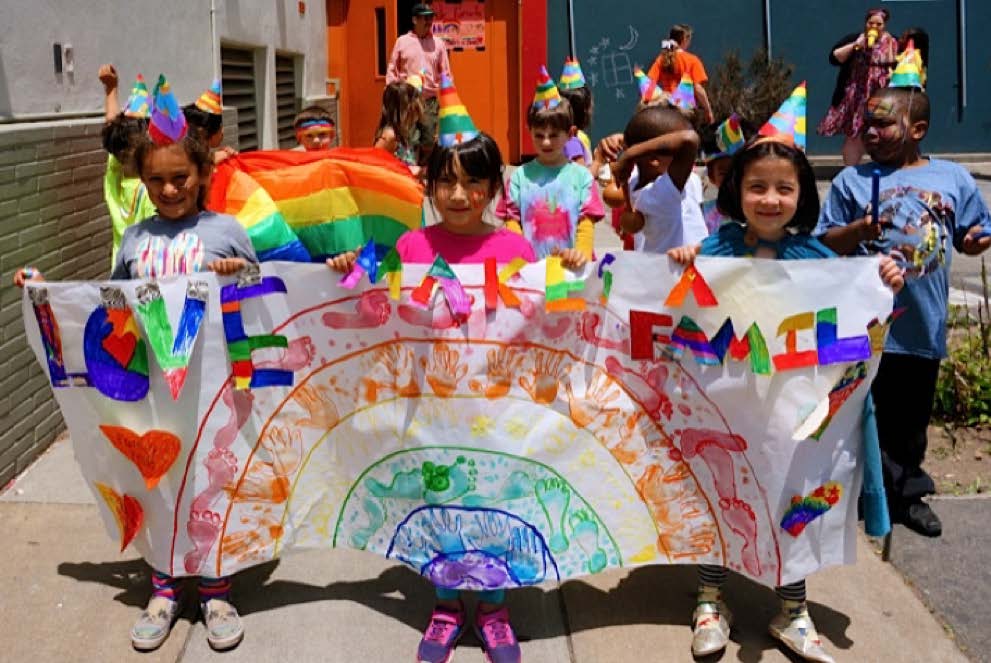 Peace Awards 2017
Our 2017 Peace Awards will be given to 3 people on 3 occasions: The Asian Forum lunch, the NAEYC Diversity Celebration, and our own Annual Meeting. The Asian Interest Forum meeting will be on Thursday, 11/16, from 11:30-1 at International Ballroom E of the Omni Hotel. Contact sandybabaece@gmail.com for information or attendance. President Ellen Junn of California State University, Stanislaus, will get her Peace Award for her commitment and work to strengthen early childhood education and care in California through public policy and teacher support around diversity and peace education.
Diversity Reception
The Peace Education Interest Forum is a co-sponsor of this year's Diversity Reception on Thursday, 11/16, from 8-10, with free desserts provided by NAEYC. At that Reception P.E.A.C.E. and the Peace Educators Interest Forum will give a Peace Award to Frances Carlson for her work on touch, play, and the role of men in child care, all of which help build peace.
Annual Meeting
Our own Annual Meeting, on Friday, 11/17 in room B308, will report on this year's progress and start planning for next year's, including our presentation at the 2018 NAEYC Conference in Washington, DC. During our meeting or the seminar preceding it, Marilyn Shelton, a Co-Facilitator of the Peace Educators Interest Forum and a member of the P.E.A.C.E. Executive Committee, will receive her Peace Award.
Peace Educators Interest Forum
The Peace Educators Interest Forum will talk about our new, interactive Web page at http://hello.naeyc.org/HigherLogic.aspx. and our participation in NAEYC's HELLO open discussion forum, where recent threads include members' comments on bullying, overuse of technology, play, and other concerns of interest to peace educators.
To join our Peace Educators Interest Forum, what you need to do is:
Navigate to

https://members.naeyc.org/eweb

.

Log in using your NAEYC Member ID and Password.

Once logged in, find the 'Account Links' sections and click on 'Interests'.

On the Interests page, simply click the checkbox next to the Peace Educators Interest forum.
Donations
Finally, P.E.A.C.E. now has a "Donate" button that you can use to send us your money to support our important work together, via Pay Pal or your credit card. Now that we don't charge annual dues, we do depend on your generosity to continue our active involvement in helping to raise a generation of peacemakers and keep the world intact until they have their chance to make it whole.
List of 2017 NAEYC Conference Events of Interest to Peace Educators:
Sessions are in the Georgia World Conference Center; Events are at Omni Hotel across the street
Wednesday, 11/15:
8:15-11:15: Communicating the Importance of play in a push-down culture: Tools for Advocacy, Room B309
8:15-11:15: Children create change: Defending voting rights, Room B208
8:15-11:15: Effective Consequences Reduce Aggression, Room A412
Thursday, 11/16:
8-9:30: The pedagogy of poverty: hidden impediments to learning, Room B312
8-9:30: Children defend voting rights, Room B208
10-11:30: "I want all the turns!" Involving children in the conflict resolution process, Room B303
10-11:30: NAEYC's HELLO discussion forum, Room B306
11:30-1: Asian Interest Forum Lunch & Awards, Omni International Ballroom E
1-2:30: Teacher research for a democratically engaged citizenry, Room B311
3-4:30: The unspoken truth about children with parents in prison: Empowering teachers to support these children effectively, Room B409
3-4:30: The play-learning connection: Why it's more important now than ever, Room B306
3-4:30: Global collaboration, Room B301
4:30-6: The forgotten child: Identifying, understanding, and responding to the classroom bully, Exh. Hall Poster
4:30-6: Tier 3 interventions for pre-K through primary grade children who have (and who are at risk of developing) emotional and behavioral disorders, Exhibit Hall Poster
8:30-10: NAEYC Interest Forums' Diversity Celebration, Omni International Ballroom F
NAEYC Conference Events of Interest to Peace Educators (Continued): Thursday, 11/16
Friday, 11/17:
8-9:30: Young children understanding issues of poverty: Transformational learning experiences for students in early elementary social studies, Room A406
1-2:30: You think differently than I do? Supporting children's development of perspective-taking, Room A407
1-2:30: NAEYC Business Meeting & Town Hall, Room B313
3-4:30: That's not fair!" Cultivating children's activism, P.E.A.C.E. and Peace Educators Interest Forum seminar, Room B308
4:30-6: P.EA.C.E. and Peace Educators Interest Forum Annual Meeting, Room B308
4:30-6: "We're not friends, I'm not sharing, and no, you can't play with me.": Exhibit Hall Poster
6-8: Defending the Early Years Meeting, Omni International, Dogwood A
Our Annual Retreat, July 5-9, 2017
Our P.E.A.C.E. Worker Bee Council had a new generation of leaders present at our annual Retreat, for the first time in Southern California. In addition to the new website, we decided on several new peace education and advocacy resources from our group, as well as a plan for transition from aging leaders to those who can lead us into the next generation.